Hi Friends,
I am back today to share a fun card made from the Elizabeth Craft Designs' Ribbons 1 die set by Els van de Burgt Studio. I decided to get out my Distress Oxide Inks and play with the pieces created from die cutting the Ribbons 1 dies from the card front.
Steps by Step Instructions:
1. Cut a card base to 5.5" x 8" and score in half.
2. Cut a piece of yellow card stock to 5.5" x 4" and attach to card front
3. Cut a piece of watercolor paper to 5.5" x 4"
4. Using the first ribbons die place it about .75" up from the bottom of the watercolor paper and die cut a ribbon. This will create 3 pieces. (card front, ribbon, and strip below the ribbon)
Repeat this process with two more ribbon dies until you have 7 pieces total. (3 will be ribbons and 4 will be the pieces of watercolor paper between the ribbons.)
5. Put the ribbons aside and use Distress Oxide inks and water to create the inked effect.
See Friday with Els post
using Distress Oxide inks for more details on this technique.
6. Beginning from the bottom begin gluing pieces in place starting with first Oxide piece followed by the first ribbon etc. The pieces nest very closely together so there is really only one direction they can be put together.
7. When you get to the last piece it will hang over the top of the car. Simply cut the excess off.
8. Lastly cut 3 of the "celebrate" die and glue them together. This adds extra interest and texture to your card. Glue in place.
Elizabeth Craft Products Used: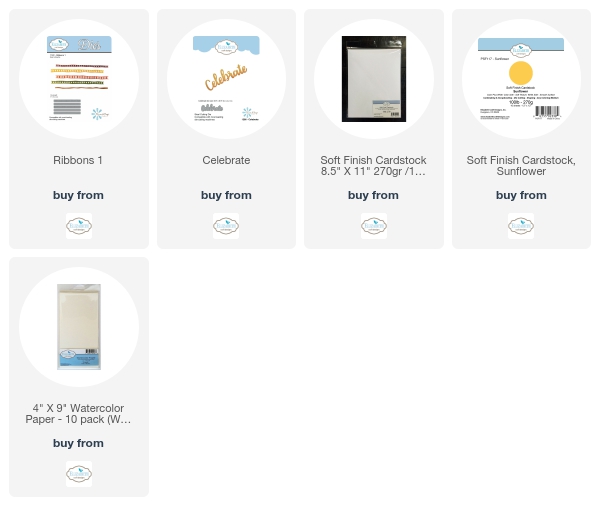 Other Supplies Used:
Water Color Paper
Tim Holtz Distress Oxide Inks
Spray bottle
Thank you for stopping by today... Happy Crafting! Melanie